Arkio design challenge

Hilmar Gunnarsson
October 5, 2021
Join for a chance to win an Oculus Quest 2 VR headset!
We're kicking off the first Arkio design challenge now in October. It's time to see what amazing designs you can come up with inside Arkio! Simply download Arkio for free for any of your devices and start creating!
We will be selecting four winners and each winner will receive an Oculus Quest 2. Share with us and the community your best design ideas brought to life inside Arkio - architecture, urban plans, stage design, game environments or personal hobby projects - the choice is yours.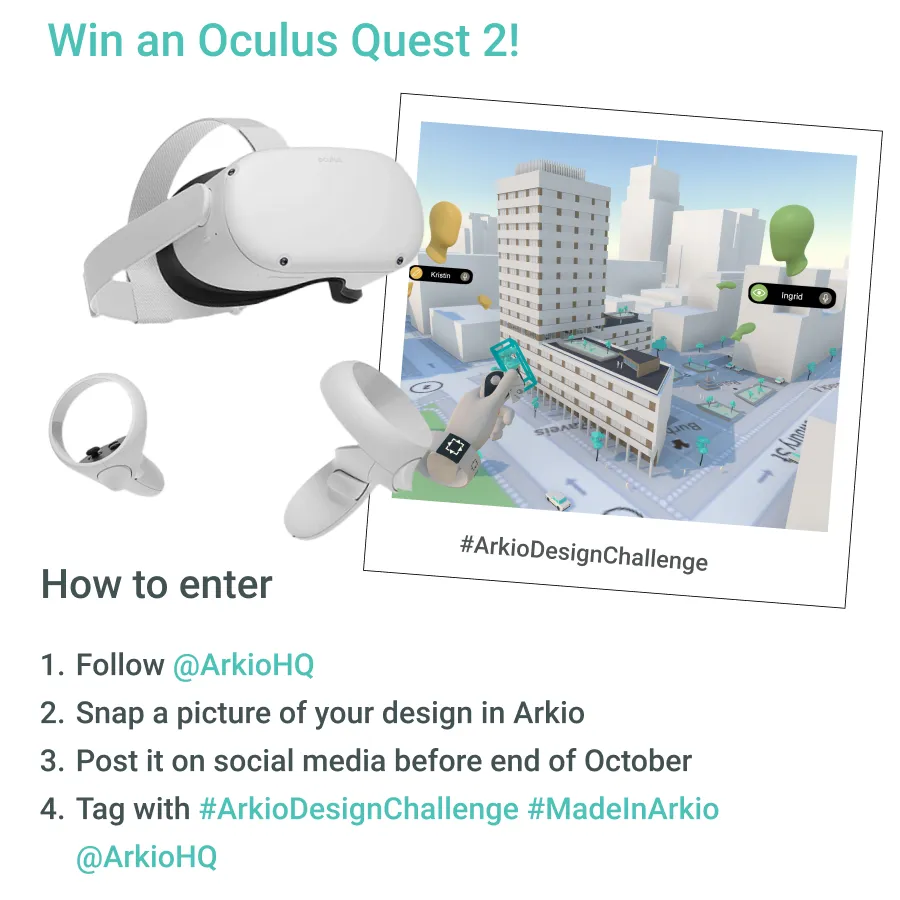 If you prefer you can also send us your entry by email to hello@arkio.is.
The winners will be announced at the NXTBLD conference in London on November 9.
Winners in this design challenge will be selected by the Arkio team. We're curious to see what you come up with so there's no criteria for this first design challenge, just show us your best designs.
If you want please also tell us about your project, why it's important, how Arkio helped you out, if you worked on it solo or with other people inside Arkio.
As a pro tip you can easily share models between devices if you want to use multiple devices or e.g. design in VR on an Oculus Quest and take screenshots on your PC. Simply join an Arkio meeting with both devices and your model will be instantly synchronized. Here you can also see the location of any photos taken with the camera tool inside Arkio.
We look forward to seeing what you create!