Arkio 1.6 - Large model beta, co-location, boundaryless mode and more

Hilmar Gunnarsson
October 22, 2023
We're excited to announce the release of Arkio 1.6, a significant update introducing several new important features and workflows. These include large model support (beta), colocated meetings, working without a boundary on Meta Quest and more. Let's dive in!
Large model support (beta)
From the very start we've focused on integrating Arkio with existing design workflows. Our plugins for Revit, Rhino, SketchUp and Unity already offer bi-directional workflows via the cloud, enabling users to seamlessly transition from these design tools to Arkio and back. However, mobile devices like the Meta Quest, phones and tablets are severely limited in the size of 3D models they can render as compared to desktop devices. This makes it difficult to import large 3D models on mobile devices.
Last year we added support for Meta's Application SpaceWarp, which allowed us to support 2-3X larger models than before on Quest, or up to 1-1,5 million triangles. With release 1.6, we're introducing a new beta feature, large model support, which allows rendering 5-10 million triangle models on a Quest as well as other mobile devices. Our goal is to simplify the design process and make it so people don't have to worry if they can import models of certain sizes or not. While there are certainly larger 3D models out there, this is just the start of our large model support.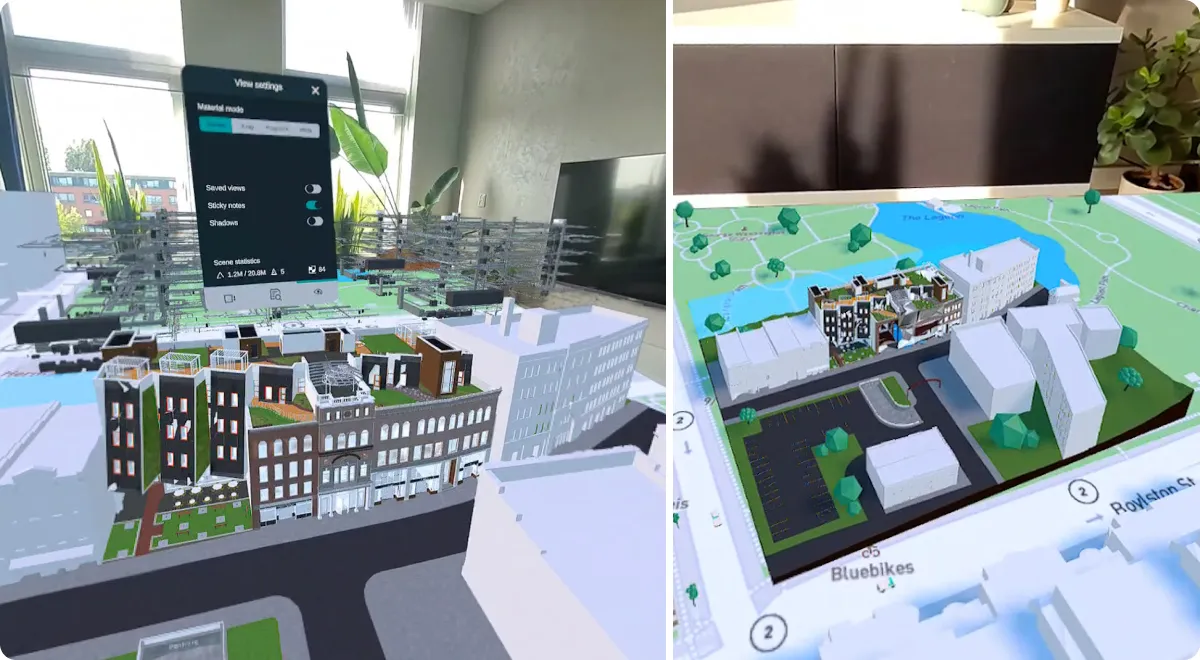 Version 1.6 supports large models in beta for everyone as we continue to stabilize the feature and push the triangle limit ever higher. Most 3D models work pretty well at both human and large scale, but some models with dense triangles and tiny objects may not perform well enough especially at scales between 1:50-1:200. If you try the large model support and have a model that's not performant we'd love to hear from you in our Discord forums.
The underlying technology is designed to work well on devices with much less memory and weaker GPUs and CPUs than desktop machines. Arkio can import large models directly on device, and crunch them in a matter of a minute or two into a hierarchical level of detail (HLOD) representation. During viewing it rapidly updates the model to show more detail near and in front of a user's viewpoint but less elsewhere. We render HLODs differently depending on what device is being used to make the most of more powerful devices like desktop machines.
Large model support works with all of our plugins, Autodesk BIM360/ACC, Arkio Cloud and manual imports - so you can enjoy much larger Revit, Rhino, SketchUp, Unity, glTF/GLB and OBJ files than before. Large model support is available to Plus, Pro and Enterprise users, although Plus users are limited to importing 3D models with 2M triangles or less. Users using the free version can import models with up to 100K triangles.
Co-location
Collaboration is at the very heart of Arkio and with 1.6 it's now possible to easily work together in mixed reality in the same physical space.
Before this release, it was possible for multiple users to collaborate in the same room, but geometry and avatars weren't being synchronized. One person would see another's avatar not aligned with the physical location of the other person, and geometry would be in different places for each user. With co-location, everything magically falls into place when joining a meeting and avatars as well as geometry are fully aligned. This works both at large scale, when viewing an Arkio scene on the worktable and also at human scale, when collaborating and designing at 1:1 scale. In fact, the host of the meeting can place the Arkio scene on a physical conference table and gather everyone around the table by selecting the lock button on the left bracelet, then teleport into human scale and have everyone follow while still being aligned to their physical positions.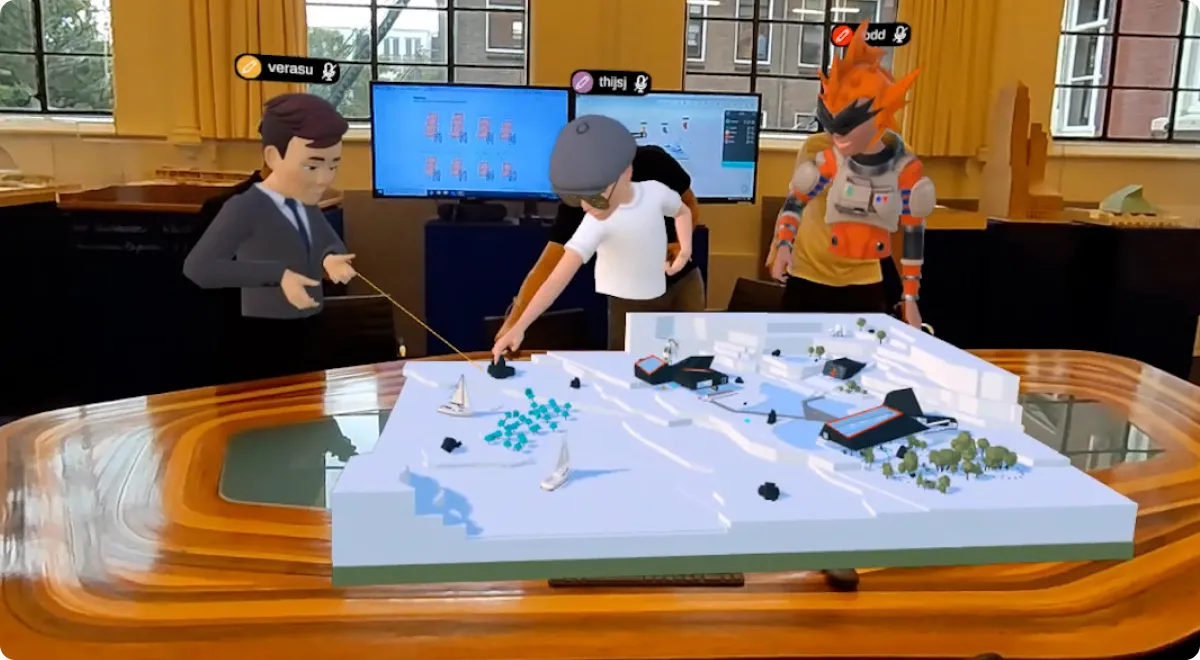 Co-location is the missing link to make mixed reality meetings seamless and productive. Once you experience co-located meetings you will probably just think this is the way mixed reality meetings should work. There's no setup involved, just start a meeting with one or more co-located users. Please note that co-location is only supported on Meta Quest devices for now.
Boundaryless support on Meta Quest
While it's amazing to design in Arkio in VR or in mixed reality using passthrough, the guardian/boundary you set up on the device often gets in the way. With better and better passthrough cameras, working in Arkio should feel more like a native mixed reality experience, one where you can move freely about entire rooms, floors or buildings without thinking about setting up a boundary.
Version 1.6 introduces a groundbreaking feature on Meta Quest devices, boundaryless mode. Now, you can move freely around in Arkio, whether you're working in fully immersive VR mode or using passthrough, without worrying about your boundary. Once you start to move, we fade in the real world so you can see where you're going, and then fade back to the Arkio scene when you slow down. If you're in immersive VR mode your physical space fades in faster than if you're working in mixed reality mode and seeing your passthrough feed. These transitions also depend on the speed at which you move to further increase safety.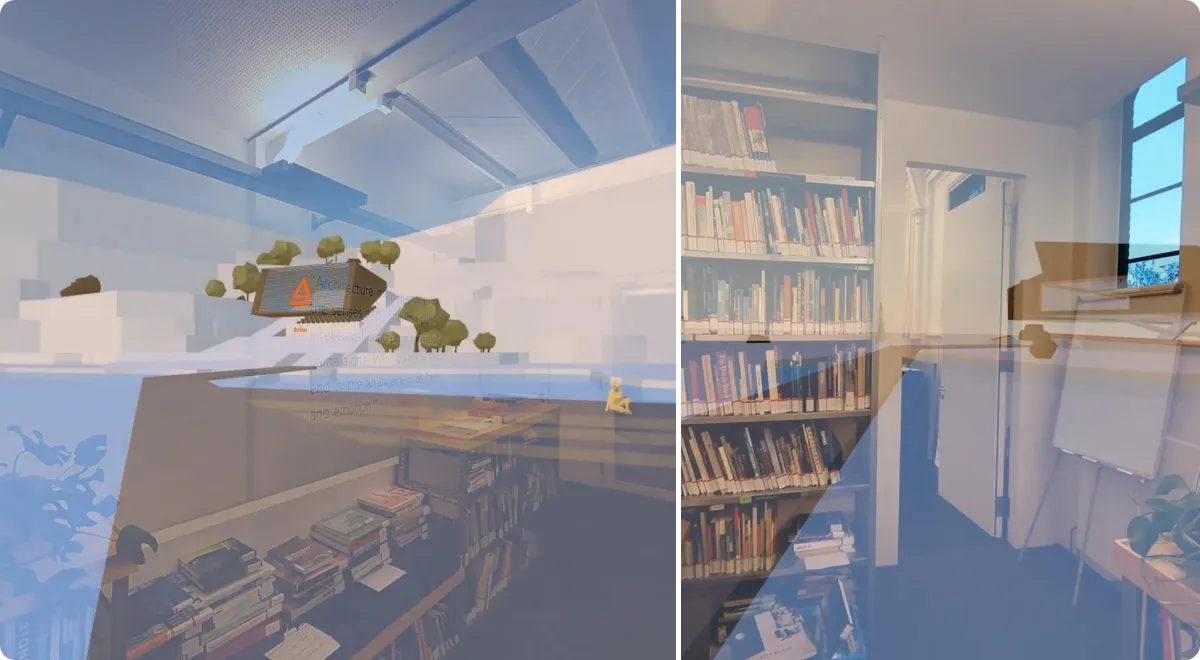 Being able to collaborate with others in mixed reality, review 3D models and modify your physical environment without a boundary is a big step forward for Arkio and for collaborative design in general, and we can't wait to hear what you think!
And there's more!
1.6 introduces several other import features, including a new Review panel where you can add views, view BIM information for an imported model, manage scene visual modes and see overall scene statistics and the large model support at work. X-ray mode is a new feature accessible via the new Review panel which makes it easy to see into buildings and to overlay Arkio geometry and imported 3D models on top of the real world when working in mixed reality.
New users are now welcomed with a new Welcome panel, offering them to start the expanded in-app tutorial to help them get started. We have also added more colors and materials to work with, which can be found in the materials section.
Please see here for a full list of what's new and improved in 1.6. We'd love to hear what you think about this feature-packed release, let us know in Discord when you get a chance to try it out!